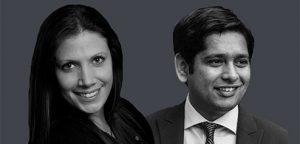 Maestro Announces Record Results, Expands Executive Team with New Senior Hires
01/09/2021
Prasanth Ramanand and Lauren Weiner to lead product development and marketing strategy, respectively, as private equity technology company continues to enjoy significant growth
NEW YORK — January 19, 2020 — Maestro, the software business focused on maximizing value in private equity-backed companies, today announced that it achieved record results in 2020, experiencing 300% year-over-year growth. The company also announced the addition of two new members to its executive leadership team.
Prasanth Ramanand joins as Vice President of Product to lead the ongoing development of the company's deal performance management and portfolio operations platform. Lauren Weiner joins as Vice President of Marketing to lead overall marketing strategy and execution, including branding, content marketing, and demand generation efforts in support of the company's growth plans.
Both executives join Maestro as the company continues to expand the capabilities and features of its core platform and engage a growing number of PE firms seeking to streamline portfolio operations and accelerate value creation. The expansion of the executive team comes on the heels of Series A funding secured from S&P Global Market Intelligence and Accordion Partners in October and record business activity in the recently completed 4th quarter.
"Following the close of a highly successful year, we continue to invest in the platform and in building a team of deeply experienced and committed technology executives who will help propel Maestro forward in 2021 and beyond,"
Omar Divina, CEO of Maestro
"As we look to carry our momentum into the new year, we couldn't be more fortunate to have the remarkable caliber of talent joining us on this journey. We are excited to welcome both Prasanth and Lauren to our growing Maestro team."
Omar Divina, CEO of Maestro
Ramanand joins Maestro from CRE-technology unicorn VTS, a leasing and asset management platform for the commercial real estate industry, where he led product management for VTS Market & Marketplace. He has also held senior product and data leadership roles at Wealth-X, a provider of wealth information and insight, and LexisNexis, a global provider of legal, regulatory, and business information and analytics.
Weiner is a deeply experienced financial technology marketing executive who arrives from IHS Markit, a provider of critical information, analytics, and solutions, where she served as Executive Director of Marketing. She has held senior marketing, branding, and client relationships positions at Ipreo (acquired by IHS Markit), ERGO Interactive, Forbes, and ALM Media.