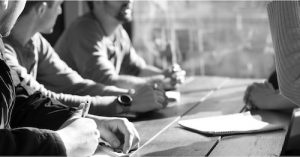 Navigating Today's Talent Wars in PE: A Q&A with Adam Miller of HYGGE Capital Partners
11/02/2021
After a stagnant 2020 which saw the pandemic slow PE deal making to a crawl, 2021 has been a year of recovery with sponsors deploying copious amounts of capital. The hyperactive environment has sparked urgent needs for talent across the industry. Firms are challenged with finding and retaining top-end talent and meeting the changing demands of today's PE workforce. Adam Miller, Founder of HYGGE Capital Partners, discusses the state of hiring in the PE industry and the role technology is playing in helping sponsors find and keep talent.
PE sponsors have always waged war for top-end talent. What's driving the competition today?
Right now, the talent wars in PE are being driven primarily by two things: diversity and the impact of the pandemic. More than ever before, sponsors are competing for diverse talent as they look to bring more inclusion of thought into the workforce. And as it relates to COVID, sponsors know they need to offer a workplace model and environment that accommodates people's life situations, work preferences, and a desire for a better quality of life than PE has historically offered. Sponsors hoping to attract the best and the brightest need to be focused on these two areas.
As sponsors pursue top-end talent, what role does technology play as a competitive differentiator?
Technology has enabled employees to work remotely and to be as productive as before, if not more so. Tech is also enabling people to be more successful. Traditionally in PE, everything was done in person. Partners wanted to physically be in front of management teams, onsite to do site tours and visits. Today, you can schedule a virtual meeting to replace all that. The increase in efficiency can accelerate value in a meaningful way. The firms that are leading the charge in technology adoption will have a competitive advantage when it comes to attracting and retaining quality talent.
What are the biggest challenges facing human capital Operating Partners in today's environment?
Without question, attrition is the biggest issue facing partners focused on value creation and operational enhancement. The massive amounts of capital flowing around have created a slew of options for talent. Women and people of color have unprecedented access to cash to start new funds. Employees have more options than ever and can be more selective when it comes to choosing where they want to work. Many are choosing to work at companies whose values and attributes resonate on a personal level. Operating partners responsible for staffing management teams, finding diverse talent, and retaining those individuals throughout the holding periods are having a hard time offsetting the attrition piece.
What role can technology play in helping sponsors and HR operating partners minimize attrition and related disruptions?
The firms that are leading around the adoption of technology will be seen by talent as progressive and more aligned with new ideas around the flexibility of work and quality of life. They will appeal to younger applicants who care about more than just compensation. As a result, they will also be better positioned to mitigate attrition. When attrition does occur, technology will help capture data and transfer of knowledge to help minimize the impacts and ensure value creation activities stay on schedule.
From a recruiting perspective, how has technology improved the experience for both sponsors and applicants?
Technology is creating a much better recruiting experience and helping sponsors acquire not just younger talent, but exceptional talent. This is probably why human capital technology is one of the hottest investment spaces right now. Platforms are being utilized to streamline the interview process, prevent bottlenecks, and eliminate those black holes that applicants often experience after an interview when they don't hear from anyone for weeks at a time. Psychometric evaluations help to create better matches between applicants and firms. All that said, the recruiting process is still about dealing with human beings. It needs to be thoughtful and sincere.
Adam J. Miller is the Founder and Managing Partner of HYGGE Capital Partners. Adam has over a decade of human capital experience with top-tier financial firms and the proven ability to help domestic and international companies maximize organizational performance.